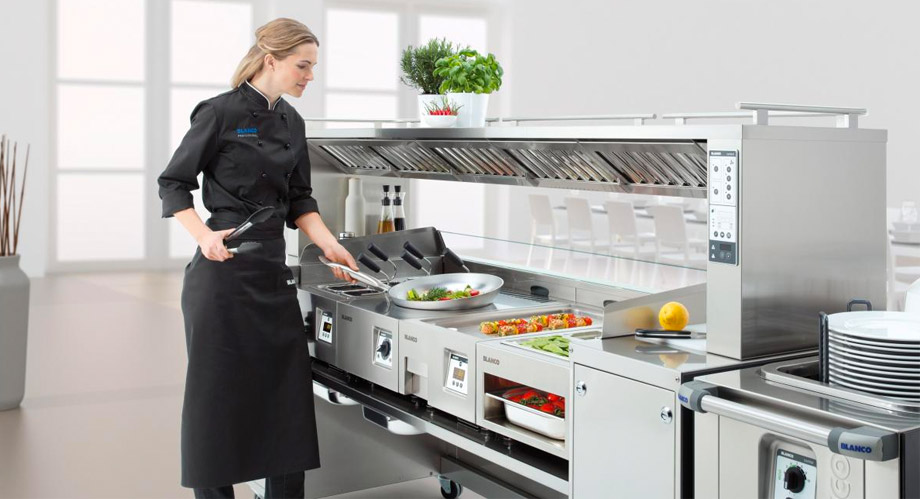 Blanco Cook
Put on a big show in a small space by cooking in front of guests with Blanco Cook
Front cooking provides for freshness, emotion and increasing turnover. The high-performance, compact table-top units of the Blanco Cook front cooking system ensure a true cooking experience every day. And the mobile fume extraction module is always right there where it's needed – with a licence to breath easy. Its multi-stage filter system reliably removes grease, moisture and annoying odours from the cooking fumes, completely independently of stationary fume hoods. Guests really value that: It enables them to enjoy the individual cooking show and the freshly prepared dish all the more.
With the mobile Blanco Cook fume extraction module, the cooking show can start wherever a 400 V electrical connection is available – in an extremely small room or a festival hall. Simply plug in, install the cooking units and the front cooking station is ready to use immediately – in canteens, dining halls, dining rooms or on a terrace.
And those who are also banking on a professional kitchen for show cooking are well advised to invest in Blanco equipment. Then all that's necessary is to add a plate dispenser to the Blanco Cook front cooking system with the integrated fume extraction module in order to serve the food quickly to the guests. In the rear area a spacious Blancotherm food transporter provides for restocking whenever necessary. A service trolley offers plenty of space for storing utensils and the hand-washing basin and utility sink combination provides for excellent hygiene. With everything provided for the successful cooking show, it's easy to work efficiently and ergonomically in a fully equipped kitchen – in this example in a space of just 2.80 x 2.60 m.
A licence to breath easily; the mobile fume extraction module with multi-stage filter system
The mobile Blanco Cook fume extraction module is perfect for all those who bank on sales-promoting front cooking when planning their turnover. From company and event catering to hotels and the food service industry to fresh, healthy school catering – the unique filter system ensures a healthy appetite instead of bad.
"Noses remain clear, regardless of how extensively the cook cooks or fries before the eyes of the guests," explains Martin Braun, Key Account Manager at Blanco CS. "Our multi-stage filter system is extremely efficient. Grease is separated out in the extraction bridge and the next filter stage reduces the moisture content. Then activated charcoal filters bond the odour molecules. Bad odours are effectively removed and the cook is also protected from most strenuous vapours."
Other positive features of the extraction bridge: Mounted at a height of 1.35 m, it offers an unobstructed view of the preparation surface and a great deal of leeway for communication between customers and the cook. At the same time, it serves as an additional storage surface. "Which is very helpful for the cooks," says Martin Braun, "as during front cooking space is cramped and every additional square centimetre of space is a plus.
The fume extraction module offers plenty of room – even for more elaborate cooking ideas. Depending on the model, it covers up to three table-top units (width: 400 mm each). The entire area under the table-top units can be used as desired, e.g. for Blancotherm food transport containers or an underframe cooling table. All parts to be cleaned are easily accessible, can be removed without tools and fit in the dishwasher. Efficient odour reduction and easy cleaning – the fume extraction module is well-designed from start to finish.
0 – 250 in no time – table-top units with the latest generator generation
Grilled trout and deep-fried zucchini blossoms, tender lamb filets and roasted potatoes – with the ten high-performance table-top units from Blanco Cook, delicacies come true. Induction hobs, woks, Ceran hobs, pasta cookers, deep fryers, griddles, bain-maries and hot plates enable the greatest possible variety when cooking. All units are simple and intuitive to operate. The professional technology even makes short work of large quantities.
The heating system of the table-top units shines with short reaction times – even at the highest temperatures. For example, the griddles are at 250 °C in just 4.5 minutes. Energy requirements can be adapted to the capacity level via an electronic control system. Blanco Cook offers top performance with low power consumption.
The induction hobs and woks are available with 3.5 kW (220–240 V) or 5 kW (400 V). For example, the BC IH 5000 induction hob with 5 kW power consumption brings 5 litres of water to a boil in just 6.5 minutes. The energy is transferred to pots, pans and woks extremely fast – the efficiency is 90%.
A big effect in manageable sizes. Every table-top unit is compact and easy to carry. With a depth of just 62 cm, the modules fit on all standard countertops. Cook and deep fry today, fry and grill tomorrow – the table-top units from Blanco Cook can easily be combined anew every day. And the table-top units also make cleaning easy. With micro-polished stainless-steel surfaces, and continuously welded-in cooking and frying zones with large radii, they offer optimum hygiene.
Professional cooks can depend on Blanco Cook.
Back to News